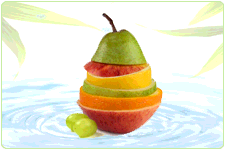 Dr. Mehdizadeh is board certified by the American Board of Physician Nutrition Specialists and is trained to handle a wide variety of nutritional situations both in health and sickness.  He is also a member of the Nutrition Advisory Support Committee at Cedars-Sinai Medical Center.  Call us if you wish to have a nutrition consultation.  Healthy nutrition can play an important role in both prevention and treatment of diseases.  The food choices that we make every day affect our well-being and how we feel today or in the future.
Healthy individuals may be eating plenty but not eating the right foods that are needed to stay healthy.   Dr. Mehdizadeh can help healthy individuals make smart choices and get the most out of the calories they eat to prevent disease and stay healthy as long as possible.
In illness, the right nutritional program can help speed recovery.  Dr. Mehdizadeh helps patients with a variety of illnesses such as diabetes or heart disease improve their recovery and well-being by tailoring the right nutritional regimen.   Diet and nutrition plays a major role in many gastrointestinal disorders such as acid reflux or irritable bowel syndrome.  The right diet may alleviate symptoms such as gas, bloating or acid reflux and allow patients to avoid medications.  Diet also plays a significant role in disorders such as Celiac disease, Irritable bowel syndrome (IBS) or constipation.
Patients with cancer have more complex nutritional needs and are at a high risk for malnutrition.  Dr. Mehdizadeh works with many cancer patients to prevent weight-loss and nutritional deficiencies.  He also manages nutrition in critically ill patients, in the hospital or at home, who may need total parenteral nutrition (TPN), a form of nutrition given through the vein.  Dr. Mehdizadeh is an attending member of the Metabolic Support Team and the Nutrition Advisory Support Committee at Cedars-Sinai Medical Center.